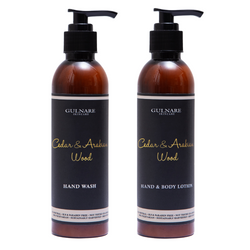 CEDAR & ARABIAN WOOD HAND WASH
Cedar & Arabian wood's anti microbial properties combined with Acai Berry's rejuvenating/ anti aging properties will not only help boost collagen production but also will make your hands look soft, clean and vibrant. Use our unique blend to pamper your hands and stay protected!
Directions: Massage gently into wet hands, rinse well with water and repeat if required.
Ingredients: Purified water, Disodium Laureth Sulfosuccinate, DI SODIUM COCOAMPHOACETATE, Alpha Olefin Sulfonate, Sodium PCA, Glycerin, Essential Oil Blend, Aloevera Powder , Acaiberry Extract & Citric acid
CEDAR & ARABIAN WOOD HAND & BODY LOTION
Use this magical blend to keep your skin smooth, supple, and relaxed while maintaining a healthy skin barrier. Keep your skin hydrated with our oatmeal, cedar wood and Arabian wood blend a little secret to youthful-looking skin. Stay protected with the therapeutic properties of Cedar & Arabian wood.
Directions: Massage into damp or dry skin. Allow the rich formula to naturally soak in.
Ingredients: DM Water, Alovera Pure, Stearic Acid, Shea Butter, Glyceryl Mono Stearate, Vitamin E, Essential Oil Blend, Sweet Almond Oil, Coconut Oil, Carrot Seed Extract & Oat Extract