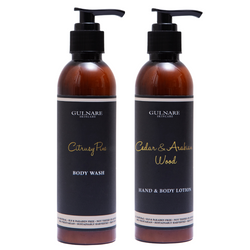 CITRUSY PINE SHOWER GEL
Lift your mood with our energizing bath and shower gel infused with the goodness of citrus. Cleanse and revitalize your skin boosting circulation with the anti aging and therapeutic properties of Pine. Use this magical combination for skin regeneration, stress reduction, and its anti bacterial benefits.

A non-drying and pH-balanced solution, it is suitable for daily use, and leaves skin feeling fresh, soft & delicately scented.

Directions: Massage onto wet skin. Lather & Rinse
Ingrediants: Purified water,Disodium Laureth Sulfosuccinate, DI Sodiumcocoamphoacetate, Sodium PCA, Glycerin, Essential Oil Blend, Sodium Lactate (and) Sodium Gluconate, PEG-150 distearate, Aloevera Powder, Thyme Extract & Citric Acid
CEDAR & ARABIAN WOOD HAND & BODY LOTION
Use this magical blend to keep your skin smooth, supple, and relaxed while maintaining a healthy skin barrier. Keep your skin hydrated with our oatmeal, cedar wood and Arabian wood blend a little secret to youthful-looking skin. Stay protected with the therapeutic properties of Cedar & Arabian wood.
Directions: Massage into damp or dry skin. Allow the rich formula to naturally soak in.
Ingredients: DM Water, Alovera Pure, Stearic Acid, Shea Butter, Glyceryl Mono Stearate, Vitamin E, Essential Oil Blend, Sweet Almond Oil, Coconut Oil, Carrot Seed Extract & Oat Extract